Glen Dale Elementary Students Graduate from DARE Program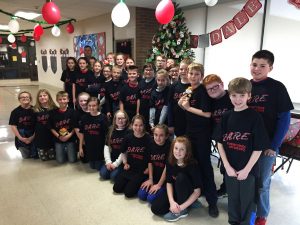 Glen Dale Elementary 5th grade students have vowed to take the DARE Pledge.
The 31 students recently graduated from the 10 week DARE (Drug Abuse Resistance Education) Program.  Given the national profile of DARE graduates, it's likely the students will follow the pledge their entire lives.
Under the direction of Glen Dale Police Chief Ed Vogler, the students learned the skills they need to avoid drugs, alcohol and violence. The classes include extensive role-playing with officers on practical ways to resist pressure to experiment with drugs and alcohol.  Because the officers have personal experience working with drug abusers on the street, young people consider them to be highly credible instructors.
The DARE lessons focus on four major areas: providing accurate information about alcohol and drugs, teaching students decision making skills, showing them how to resist peer pressure and give them ideas for alternatives to drug use and violence.
DARE began in 1983.  It was adopted at Glen Dale Elementary School in 1985 as a joint effort between Marshall County Schools and the Glen Dale Police Department.